C'mon feel the noise …
—————————————————–
"Technical Difficulties…"
There are days when I feel like I'm a technological wizard.
I mean anybody can learn how to use an iPhone… but I've built websites from scratch, learned basic HTML coding, and even mastered the art of creating my own memes.
And then there are days when I feel like a newborn baby slobbering and teething on a child-proofed iPad.
This past couple of weeks have represented the latter experience.
Last Wednesday… my laptop crashed on me. 
This probably shouldn't have come as such a surprise since it's nearly a decade old (which translates to 447 years old in computer years.)
Nevertheless, it's been an absolute pain in the ass.
I had everything on there.  All my files, all my workouts, all my pictures, videos, passwords, programs, notes, and past posts… gone without warning in an instant.
Fortunately for me… I've got the cloud.
"Savvy CJ" takes credit for being prepared like a Boy Scout for unforeseen calamity.  "Slobbering CJ" assumes the cloud is an actual physical storage cloud in the sky and wonders whether that cloud is cumulous, cirrus, stratus, or nimbus…
#CloudScience
What I didn't foresee was the ridiculous amount of time it would take to re-download my lost files. 
It took 48 hours to recover 22% of my data.  At which point, my ailing laptop vomited virtual cookies everywhere and had to start over from the beginning.
On top of my usual workload I've been spending inordinate amounts of time on customer support with cloud technicians (whom I imagine like the turtle guy in Mario who throws spikey balls from the sky).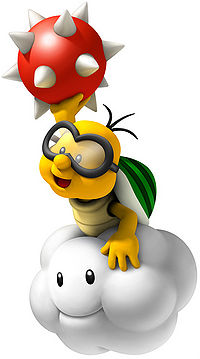 I've been borrowing my mom's old laptop (which also froze and was completely unusable for 24 hours).
And I've been enlisting the help of a true computer expert to build a new computer from scratch.
My new BFF, Mike, knows computers for real. 
He was a tech guy for the Navy for nearly a decade and continues to immerse himself in hacking, gaming, and troubleshooting tech on a level I'll never fully comprehend.
I ask questions like, "What kind of laptop should I get?"
Mike smirks at my ignorance and advises, "Don't get a laptop."
Mike asks me, "What kind of motherboard do you want in your new computer?"
I reply, "Is that like the flat-thingy that makes the computer run?"
Mike and I are worlds apart in our understanding of computers… so much so that it often seems like he's speaking a different language.  In many ways he is.
We made a trip to Micro Center to gather parts for the new build.
As Mike and our sales associate collaborated on the list of items, I only understood about 1 out of every 7 words.
I imagine it's how a dog feels when his owner gets engrossed in a deep conversation with another human.  I'm wishing somebody would just throw a ball for me to fetch while the adults finish their business.
Every once in a while they turn to me (the person actually buying the computer) and ask something like, "Would you prefer the 1020 T-I Video Card component?… Or the 1070 R-S-T-LMNOP unit?"
I'm certain they're just messing with me at this point… It's been 10 minutes that I've been shadowing them and haven't said a word.  How in the bloody hell should I know? 
But I take a stab at getting my participation points for the day as I scan the shelf space they're alluding to.
"What about this 970 model?" (Which just happens to be $300 cheaper than the other options and has a pretty badass picture of a grizzly bear on the cover.)
Both of them laugh simultaneously as if I'm doing stand-up comedy for their amusement.
"Yea… that might work… if it were 1997!"
I resist the urge to flush their heads in a toilet and issue wedgies.
To me, Micro Center is nothing more than a warehouse stocked with wires and gizmos and pretty screens.
To Mike, it's like being Willy Wonka in the Chocolate Factory.  He's at home.
By the end of the day, I've still got 99 problems, but a new computer ain't one.
Mike has outfitted me with a workstation that he admits, even makes him jealous.
It's been a week in limbo that has cost me sleep, patience, and productivity.
But I'm reminded that in the midst of chaos… growth, progress, and perspective are forged.
Without access to my computer, I've become more adept at using my phone.
With the involuntary purge of files, I've been given a clean slate.
With one ancient computer biting the dust, a newer, faster model is born.
Where I was once getting by at toroise-like speeds, I'll now be getting to play with fire.
When I've felt frustration, I've been able to recognize opportunities to work on my mindset.
Where I would once have cursed my poor luck, I now wonder how this can be for my benefit.
While I'm I novice at tech, I respect the acquired mastery of those who have immersed themselves in their field.
And while I often consider myself an Army of one, it sure helps to get some support from the Navy once in a while.  😉
Winston Churchill once said, "If you're going through hell… Keep going."
You may not fly like Ironman, climb walls like Spiderman, or wield a magic hammer like Thor.
But you are adaptable.
And that… is the ultimate super power.
Blessings!
CJ
——————————————————————————————-
CJ's Book of the Week: 
"Learning to Breathe Fire" by J.C. Herz
———————————————————————-
​
This Week's Podcast:
Episode 005:  "Fat, Cholesterol, & Ketosis… Oh My!"
https://www.stitcher.com/podcast/cj-thomas/wrestle-your-potential​
————————————————————————–
Let's be friends on Facebook…  I'm posting every day!
Hit me up here:  https://www.facebook.com/trainerceej
Facebook page here:  https://www.facebook.com/STLFitnessBootCamp/
————————————————————————————————
Workout "Skedge" for 9/10/18-9/15/18
Manchester (Class Times:  Mon-Fri @ 5:30/7:00/8:30am & Satuday @ 7am)
Monday:  Core (CJ)
Tuesday:  Lower (CJ)
Wednesday:  Upper (CJ)
Thursday:   Core (CJ)
Friday:   Lower (CJ)  
Saturday: Upper (CJ)
———————————–
CJ Thomas
Owner, Operator, & "CeejEO"
St. Louis Fitness Bootcamp
ph:  314-266-9729
email:  CJ@STLFitnessBootcamp.com
25