Hey there Sunshine!!
"Unfinished Business…"
These are some of my unfinished goals…
These are some of my unfinished books…
This is my sad little unfinished garden…
This is my unfinished-growing-up-chicken, "Katniss Featherdeen" who still hasn't laid her first egg…
#ChickenShaming
#ChickenCloseUp
Often times, my life feels like utter chaos.  
I've got a string of open loops… and at the rate I keep adding things, I'll never be able to close them all.
Sometimes I see hints of progress with things like my handstand practice which I've been dedicating at least 10 mins/day to mastering.  I'm up to a 16 second hold on some attempts… but of course this is just the launching pad for 10 other goals.
Sometimes I see no progress at all.  For instance there seems to be little if any correlation between my number of swipes on Tinder and number of dates I go on.
#SearchingInAllTheWrongPlaces
And I've punted my plans to write a book time and time again.
#ProcrastinatingLikeAChamp
Although sometimes I hit a massive mile stone like I did this past week in my pursuit of becoming 100% debt free.
It took about 12 years and I don't even know how many tens-of-thousands-of-dollars-plus-interest to get my student loan debt down to zero…  But it's finally paid off!  And I can now turn my attention to an accelerated payoff for my mortgage.
#MizzouGotTheBetterEndOfThatDeal
#AdultingIsHard
While having so much unfinished business can be frustrating.  What's far scarier to me is being all finished with everything.  
I think this is where a lot of celebs get into trouble.  They drop that first album.  Or star in a few blockbuster movies.  They make more money in a matter of months than most people see in a lifetime.  They buy the fancy house, a few sports cars, and a closet full of fresh kicks and figure, "Hey… I've made it."
But in the absence of goals and without a sense of purpose, a new form of chaos creeps in.
Complacency.  Boredom.  And the nagging feeling of, "What's next?"
Without a vision, people parish.
Hence the stories of criminal arrests, drug addicitons, and even suicides.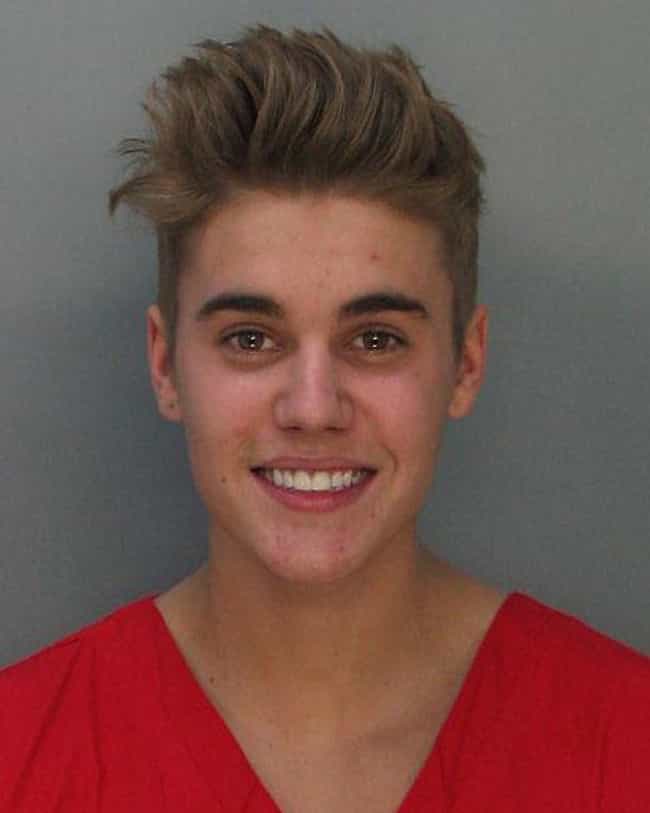 (Some are less embarrassed about mugshots than others…)
If you can't answer the question, "What's next?…" you try to fill the void with s#x,drugs, and rock & roll.  And if you don't have access to that kind of lifestyle, often food will suffice as the drug of choice.
I got a message this week from a woman that was having her 50th birthday.  She lamented that she had soooooooo wanted to be "Fit By Fifty". Ya know… because it's a trending motto that her friends had been tweeting and hashtagging about.
However, the motto itself is actually rather arbitrary, isn't it?
"Fit by Fifty" just sounds cool because of alliteration.
But you can play this game with any age if you so choose… "Slim by Sixty"… "Svelt by Seventy"… "Aces at Eighty"… "Nice @ss at Ninety"… "Hot at a Hundred"…
I mean SERIOUSLY!… Who cares if you didn't make the cut off for the latest meme circulating around Facebook?
The only question of REAL interest should be "What are you going to do to make this next decade different than the last?  What will you do today that you lied to yourself about doing for so many yesterdays before?"
Still, people constantly treat fitness and health as a checkmark goal.  It's not.  It never has been.
It's a lifestyle pursuit.
Me?… Sure, I'm in pretty good shape today.  But if I decided to stop working out and start dropping in to Uncle Bill's after class each day… I'm gonna be pretty "un-Fortunate Looking at Forty" and "Failing to Fit into my sweatpants at Fifty."
#PancakesWereABadChoice
Will it be harder at 50 to make a comeback?  Probably.
Will you let that stop you?  Hopefully not.
Will you regret it looking back a decade from now if you don't pursue your goal all out with everything you've got?  Only time will tell.
It's ok to have unfinished business.  
In fact, it's necessary for growth.  
Jamie Foxx said on a recent podcast that he finds it necessary to leave certain things unfinished on purpose.
He's got entire rooms in his house that are completely empty.  Torn curtains in his own bedroom that he refuses to get fixed or replaced.  Is it because Jamie can't afford to get this situation rectified?  Child, please!
Jamie has killed it in comedy, music, TV, and movies.  But he never wants to feel like he's "arrived".
He still gets up and works out every morning.
He's still finding new projects and testing new material.
He's still getting uncomfortable and pursuing unfinished business.
He's not a success because he's achieved all his goals.
He's a success because he keeps setting new ones.
My goal used to be to retire by the time I was 30.  Obviously that didn't work out… and frankly, I'm glad it didn't.
Because at 34, I'm fairly certain that I don't want to ever retire… at least not in the traditional sense of the word.
My ambition used to be to get to "the end".  Check all the boxes.  And retire to my private island with a monkey butler.
#IThinkIllNameHimMrMarbles
Today, I see the value in my ambition for ambition's sake.  Appreciating the journey for the journey, rather than the destination.  (Although ask me again tomorrow…)
Don't retire on your life or your goals because you haven't "arrived" yet.
That's like waiting in line for a rollercoaster and looking forward to walking through the exit sign at the other side.  You're missing out on the best part!
Keep pursuing knowing that the journey is really where it's at.  That's the stuff people write about.  That's the stuff that makes headlines.  And that's the stuff that inspires others to take another chance on their own life.
Enjoy the ride baby!
Blessings!
CJ
——————————————————————————————-
CJ's Book of the Week:  "Unbroken" by Laura Hillenbrand
———————————————————————-
"Skedge" for 8/7/17-8/12/17
Manchester (Class Times:  Mon-Fri @ 5:30/7:00/8:30am & Satuday @ 7am)
Monday: Lower(CJ)  
Tuesday:  Upper (CJ)
Wednesday:   Core  (CJ)
Thursday:   Lower (CJ)  
Friday:   Upper (CJ)
Saturday: Core (CJ)
St. Peters (Class Times:  Mon-Fri @ 5:30am ONLY & Satuday @ 8am)
Monday:  Lower (Derek)
Tuesday:  Upper (Derek)
Wednesday:  Core  (Derek)
Thursday:  Lower (Derek) 
Friday:  Upper (Derek)
Saturday:  Core (Derek)
———————————–
Get Bootcamp Xero HERE: 
Access to 15-minute, real time, eqipment free, follow along workouts…
———————————–
CJ Thomas
Owner, Operator, & "CeejEO"
St. Louis Fitness Bootcamp
ph:  314-266-9729
email:  CJ@STLFitnessBootcamp.com
25