Sunday Skedge time [fname]!!
—————————————-
Upcoming event:
Battlegrounds Mud Run:
Sign up on our team here:  https://bgsept2017.eventbrite.com?team_token=1902167-o809q
September 23, 2017 at 8:00 AM
Wright City, Missouri 63390
We're doing the 5k at the Noon-3pm time slot.
—————————————-
Total Eclipse of the Mind…
Monday marked a special day in St. Louis.  Not just because of my special playlist and change of workout format at Bootcamp.  But because we got to witness a rare and epic total eclipse of the sun.
[Derek reminds the chickens that safety comes first…]
https://www.instagram.com/p/BYEHPRHFoqZ/?taken-by=derbear_official
People skipped work and traveled hundreds of miles to witness this unique astronomical alignment.
Crickets and cicadas were tricked into singing their night time songs way too early.
And my chickens… well the chickens remained indifferent.
https://www.instagram.com/p/BYENwZBl2Bn/?taken-by=derbear_official
A hawk flies by and they won't shut up about it.  But a perfect alignment of the earth with the moon and the sun causing total darkness (albeit for only 2 minutes) doesn't even cause them to break stride.  Go figure.
But the rest of the world was aghast.  Many tried to capture the moment for their social media feed.
Yet, despite scrolling through possibly hundreds of photos on Facebook, I didn't see a single one that really did justice to what I saw and experienced during those two minutes of darkness where a halo of sunlight shone from all sides around the moon.
Sometimes words fall short.
Actually, quite often, words fall short.
Don't get me wrong.  Words are powerful.
They can be harnessed to instill inspiration.  Used to commend or offend.  Or manipulated to induce atrocities.
Yes, words can be powerful.
But our mind works in the business of images. 
If I say the word, "Hippopotamus"… Your mind pulls up a corresponding image of a hippo.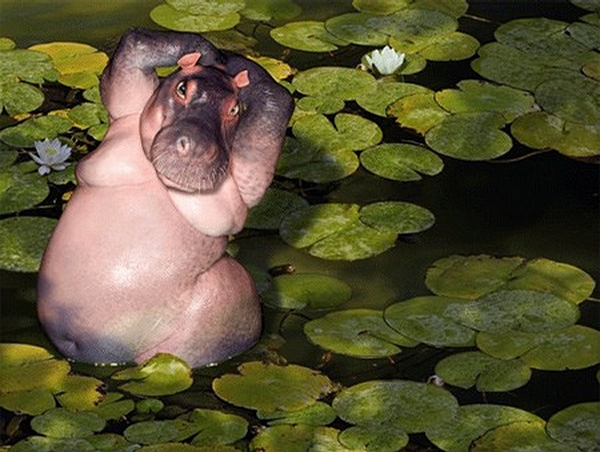 It doesn't start spelling out "h-i-p-p-o-p-o-t-a-m-u-s".  Because unless you're competing in a Spelling Bee, the letters that make up the word are far less relevant than the idea or the image of the subject at hand.
So really, it's images that are most powerful. 
One of the reasons it's so hard to create epic change in our lives is because we only have the limited images of our own experiences to work with. 
Whether you grow up in poverty, middle class, or a wealthy environment, odds are, you won't stray far from that status in adulthood given that's all you really know.
Those are the only images you have to draw upon.  That's your reality.  And that's what you attract.
And since the mind is wired to avoid change, we tend to get more of what we've already got.  And become more of what we already are.
Good news if you're content with your status quo.
Not so good if you're trying to shake things up.
Unless… you understand how to wield the awesome power of images and imagination to your advantage!
Conor McGregor, widely considered one of the best MMA fighters to ever live, was dirt-poor, jobless, and driving a push-to-start jalopy a few short years ago.  As of the time of this writing, he's slated to earn a minimum $75 million for a single fight with Floyd "Money" Mayweather (which was scheduled to take place last night).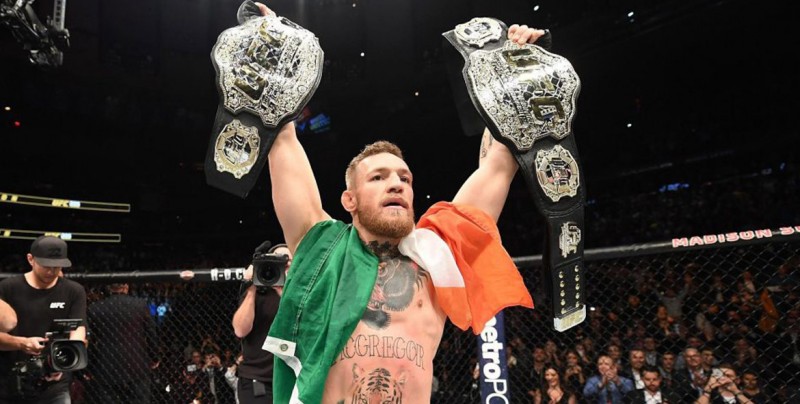 How does a nobody Irishman climb the ranks to super-stardom and mega-fortune in a few short years?
According to Conor, it had everything to do with his IMAGINATION.
He had crystal clarity about the car he would be driving and the life he would be living.  He created an image in his mind.  And he visualized it over and over and over again.
If all this sounds a bit woo-woo to you…  The concept that you can imagine yourself into a new reality… I'm with ya.
This is what's often referred to as "The Law of Attraction".  People are told they can create a "vision board" and all their wildest dreams can become reality.
But this leaves part of the equation out.
Images are powerful the same way a match is powerful. 
You can stare at a match every day of your life for the next 50 years.  But staring alone doesn't create a fire.
Similarly, you can't stare at a vision board from the comfort of your couch and expect somebody to park a new Bentley in your driveway.  (I mean you can, you're just gonna be disappointed.)
Action is the secret sauce. 
Imagination provides you with the navigation towards a concrete goal.
Conor's imagination (plus countless hours of sickening work ethic) is what's transformed him from completely unknown to sports legend.
Steve Harvey started with nothing but the mental image of himself on TV.  Then took the action of going to every open mic night, distancing himself from the haters, and living in his car until he got what he envisioned.  Now you can't turn on a TV without seeing his face.
Martin Luther King's "I have a dream" speech is one of the greatest and most memorable of all time, because he's able to convey to his audience the intense, vivid imagery of the crystal clear DREAM he had emanating from his mind.
That particular vision was one that helped change the world.
Images are powerful.
Imagination is powerful.
But again, most of us work only with the images that we actually see in our physical world on a day-to-day basis.  Very limited!
However, IMAGINATION gives you power to not only play the hand your dealt… but to have access to the entire deck.
Sure, you may want change… But can you see it?  What does it look like?  What are the images you need to come up with in your mind?"
"I want to be skinnier, richer, better…" ain't gonna cut it!
You have to get specific.  You have to get emotionally charged up.  You have to be able to see that vivid vision even when there's no present day proof to support its manifestation.
It's ok if there's no physical proof… because your mind… your image… provides the proof.
And the cool part is… your subconscious doesn't know the difference.
Then, don't forget part two of the equation, and take massive action daily until it's inevitable realization.
Conor, Steve, and Dr. King weren't "reasonable" to embrace their respective visions.  Fortunately, reason is not part of the equation.
Bear in mind, this can work in reverse too.
Worrying is the practice of imagining scary outcomes over and over again until their realization.
Be careful what you imagine.
Will you eclipse your dreams?  Or will they eclipse you?
Don't wait for the stars to align on your behalf. 😉
The next solar eclipse in our region takes place on April 8th, 2024 (my birthday!)
IMAGINE where your life could be in a few short years!  
Blessings!
CJ
Inspiration for this week's post came from this video:
https://www.youtube.com/watch?v=hxxL5g0K6B8
————————————–
Got an empty cookie jar?… Join us at the Battlegrounds!
Battlegrounds Info:
Sign up on our team here:  https://bgsept2017.eventbrite.com?team_token=1902167-o809q
September 23, 2017 at 8:00 AM
Wright City, Missouri 63390
We're doing the 5k at the Noon-3pm time slot.
—————————————
Blessings!
CJ
——————————————————————————————-
CJ's Book of the Week:  "Unbroken" by Laura Hillenbrand
———————————————————————-
"Skedge" for 8/28/17-9/2/17
Manchester (Class Times:  Mon-Fri @ 5:30/7:00/8:30am & Satuday @ 7am)
Monday: Lower (CJ)  
Tuesday:  Upper (CJ)
Wednesday:   Core  (CJ)
Thursday:   Lower (CJ)  
Friday:   Upper (CJ)
Saturday: Core (CJ)
St. Peters (Class Times:  Mon-Fri @ 5:30am ONLY & Satuday @ 8am)
Monday:  Lower (Derek)
Tuesday:  Upper (Derek)
Wednesday:  Core  (Derek)
Thursday:   Lower (Derek) 
Friday:  Upper (Derek)
Saturday:  Core (Derek)
———————————–
Get Bootcamp Xero HERE: 
Access to 15-minute, real time, eqipment free, follow along workouts…
———————————–
CJ Thomas
Owner, Operator, & "CeejEO"
St. Louis Fitness Bootcamp
ph:  314-266-9729
email:  CJ@STLFitnessBootcamp.com
25