Good glorious morning to you!
———————————
Memorial Day Classes:
St. Peters- No Class on Monday…  (Come say hi to me in Ballwin!  😉 )
Ballwin- 1 Class @ 7am on Monday
———————————
Crusher Race  (Our Team is GROWING!!)
Where:  Eureka, MO
When:  6/25/17  (We're doing the 5k option at the 10AM time slot!)
Use this link to sign up with the Bootcamp Team:  https://www.eventbrite.com/e/the-crusher-race-spring-2017-registration-31201917776?team_token=1794936-n8o31
—————————————
Becoming 'THAT' Guy…
I've done a lot of things in my life that I'm not all that proud of.
Guy who skips leg day.
Yup, I've been that guy.
Guy who works to support his weekend drinking habit.
Yup, I've been that guy.
Super-annoying sports fanatic guy.
Never actually painted my face… but yea, I've been that guy too.
It was bad.  I was the guy in the bleachers shouting insults at opposing right fielders.
The guy who knew more about the players stats than the players themselves.
The guy whose mood changed based on whether the Cardinals had won or lost the night before.
The guy who got into more than one scuffle with opposing Cubs fans over absolutely trivial nonsense.
It's one thing to be a sports fan.
It's another thing to become 'THAT' guy.
Don't be THAT guy (or girl).
One day, I had the epiphany that no matter how much I worshipped Jim Edmonds, my life was completely irrelevant to him.  (I'm sure Jim's a good dude and all… I'm just not on his radar.)
Sports, to me, was an escape.  It was a distraction.  It was my coping mechanism for filling up the emptiness I felt in my own life.
Emptiness is a sign. 
It's a sign that we need to grow.  That we need to ascend to that next level in our lives.
But growth stalls indefinitely when we avoid the hard work of personal change.
And in the presence of that emptiness discomfort, it's easiest to fill that void with things like sports, alcohol, drugs, television, videogames, and food.
I've sampled from all of the above.
But perhaps you've discovered from experience, as I have, that doughnuts fail to satisfy the deeper yearnings of your soul.
Sobriety follows inebriation and your problems haven't gone away.
And even a Cardinals World Championship in 2006 only provided me with some pseudo-happiness over the days that followed, before I was forced to address my own life again.
I'm not messing with you when I tell you how blessed I feel to have found my purpose.
For the longest time I thought that money was the source of all my problems.
But when you look at the likes of Robin Williams, Kurt Cobain, and most recently, Chris Cornell, (who all committed suicide) it shows proof positive, that money doesn't solve all your problems.
There's got to be more to it.
I won't proclaim to have the secret to life… but what's helped me most is having a purpose that's bigger than myself.
The more I learn about health and nutrition, the more I want to spread the gospel to those whose eyes haven't been opened to the truth yet.
In essence, I get to be Morpheus!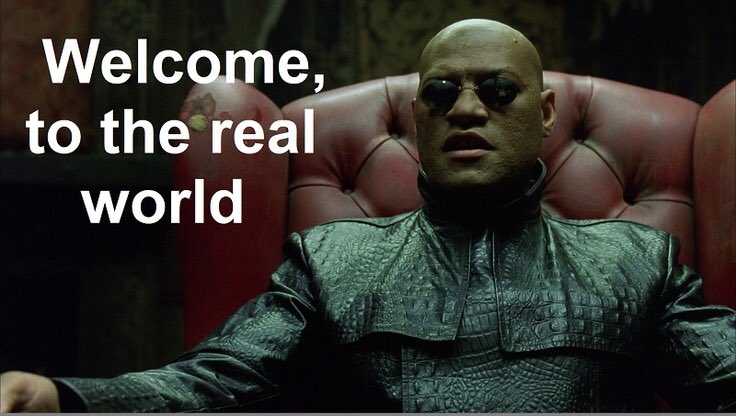 (Now I just need those sweet sunglasses!)
All that said… I'm still having my share of growing pains.
A couple weeks ago, I had my friend Mike over to my house to watch the Cardinals game.  (Ironically, the first game I've actually watched all season.)
But to be a good host, you want to have some good food out, right?
My first instinct was to put together a salad or some kind of healthy dish.
But then I thought to myself, "I don't want to be THAT guy…"
You know… the guy who forces healthy options on his friends who just want to hang out and have a slice of pizza.
The guy who quizzes the waitress at the restaurant on what kind of oil the food is being cooked in and if they'd be willing to substitute vegetables for French fries.
The guy who uses chocolate chip cookies for batting practice…  Well, I guess that ship has sailed already…
Upon reflecting, I'm afraid to be THAT guy because I'm afraid of being different.
I'm afraid of making others uncomfortable around me.
I'm afraid of losing love.
After all, what good is it to live to 150 years old if nobody wants to go to the movies with you because you tell them everything that's wrong with theatre popcorn?
So, instead of salad, I went to the store, picked up a DiGiorno pizza, and popped it in the oven, to appease (what I imagined) my friend might like.
The result?
Mike wasn't even hungry and I wound up eating half a pizza by myself!
The next day, as my intestinal tract growled with discomfort, I had another epiphany…
It's ok to be THAT guy!
It's ok to be healthy guy… because unlike some of the previous masks I've worn to hide my insecurities… healthy guy IS my truth!
I'm not going to sit here and tell you I'll never buy another pizza.  (I had a much tastier gluten-free option at Katie's Pizza over Memorial Day weekend.)
I am telling you that I intend to operate with more intention.
When my family went biking in Defiance this past weekend, I came locked and loaded with a backpack full of healthy treats, knowing that food options at the respective brewery and wineries would be lacking any nutritional value.
(Pictured here with probiotic Gut Shot, raw, unpasteurized cheese, and an assortment of fruit.  Yes, I still had some beer too!)
Please don't get it twisted… I'm not preaching perfection.  I'm simply suggesting that we all keep exploring to discover our own personal brand of truth.
It would behoove you to remain objective and recognize when to pivot and adapt a new truth as well.
Guy who skips lower body day… needs to pivot to experience optimal health (and proportionally sized legs).
Guy who knows Yadier Molina's day-to-day batting average… may want to consider if he's subconsciously distracting himself from his real problems.
Guy who actually enjoys veggies, wants to lead by example, and is intimately in touch with his bigger mission and his WHY… is on the right track and shouldn't try to pander to the imagined conformity that he expects will win him love.
What guy or gal do you want to be? 
Is THAT version of yourself promoting love and positive change in your life and in the world?
Or is it destructive and projecting your own insecurities into the ethos?
Be intentional and own your decisions.
Because the last thing you want is to look back on your life and wish you would had been a different guy or gal.
Regret guy… 'THAT' guy is the worst!  🙂
Blessings!
CJ
Crusher Race
Where:  Eureka, MO
When:  6/25/17  (We're doing the 5k option at the 10AM time slot!)
Use this link to sign up with the Bootcamp Team:  https://www.eventbrite.com/e/the-crusher-race-spring-2017-registration-31201917776?team_token=1794936-n8o31
(We're planning to carpool/caravan to the event leaving from the Manchester Vetta parking lot that morning.  I'll be in touch as the date approaches.)
——————————————————————————————-
CJ's Book of the Week:  "Head Strong" by Dr. Dave Asprey
———————————————————————-
"Skedge" for 6/5/17-6/10/17
Manchester (Class Times:  Mon-Fri @ 5:30/7:00/8:30am & Satuday @ 7am)
Monday: Lower (CJ)
Tuesday:  Upper (CJ)
Wednesday:  Core  (CJ)
Thursday:   Lower (CJ)  
Friday:   Upper (CJ)
Saturday: Core (CJ)
St. Peters (Class Times:  Mon-Fri @ 5:30am ONLY & Satuday @ 8am)
Monday:  Lower (Derek)
Tuesday:  Upper (Derek)
Wednesday:  Core  (Derek)
Thursday:  Lower (Derek) 
Friday:  Upper (Derek)
Saturday:  Core (Derek)
———————————–
Get Bootcamp Xero HERE: 
Access to 15-minute, real time, eqipment free, follow along workouts…
———————————–
CJ Thomas
Owner, Operator, & "CeejEO"
St. Louis Fitness Bootcamp
ph:  314-266-9729
email:  CJ@STLFitnessBootcamp.com
25