Happy Memorial Day Weekend!
———————————
Memorial Day Classes:
St. Peters- No Class on Monday…  (Come say hi to me in Ballwin!  😉 )
Ballwin- 1 Class @ 7am on Monday
———————————
Crusher Race  (Our Team is GROWING!!)
Where:  Eureka, MO
When:  6/25/17  (We're doing the 5k option at the 10AM time slot!)
Use this link to sign up with the Bootcamp Team:  https://www.eventbrite.com/e/the-crusher-race-spring-2017-registration-31201917776?team_token=1794936-n8o31
—————————————
"Life's a Garden… Dig It!"
I'm a terrible farmer.
Last year, three chickens died in my custody.  Upwards of 30 tomato plants perished on my plantation.  And I killed enough kale to nourish a city block.
I've read through forums.
I've done my research.
I've bought top-of-the-line organic compost.
And I I've tried to get pro tips from the actual farmers at the Farmer's Market.
I provide water.  I provide light.  And I almost got caught singing to them before Derek walked in on me one time.
I thought I'd learned from my mistakes last year.
But this year hasn't been any better.
I planted my seeds…  Showered them with love…  Watched them sprout…  And watched them wilt.
504 pods of seed starts.  Odds are, not 1 will survive.
If plant homicide were a crime, I'd be facing multiple life sentences.
Sometimes I think my new flock of chickens knows that Farmer Ceej is still a novice at tending the land and not to be trusted.
"WikiBeaks" leaked my past failings to the others.
So when I went to pick up "Arnold SchwarzHenEgger" the other day, she looked me square in the eye and said, "I'll be back."
She didn't come back.
None of this even includes the pair of ducklings I ordered that didn't make it past Day 1.
Now to be fair, that one isn't entirely my fault.  USPS failed to deliver on time (those jerks).  But I was certainly foolish to order from California and not look for more local options (which, YES, I've been told, there are many!)
Fortunately, I'm a much better trainer than a farmer or else I'd probably be visiting all of you in the ER. 
It's hard to be too disappointed since I've got no background in farming prior to last spring.
I haven't spent years leaning techniques and studying the top farmers in the field.
I've tried to Cliff Notes my way to success but haven't yet hit my stride.
I might argue that genetics is to blame… that I inherited my mom's brown thumb.
However, she's got the Amazon rain forest growing in her back yard this year!  In fact, she's running such a surplus that she's given me a number of her plants to take root at my house.  Which, let's face it, is kind of like winning the anti-lottery for those plants.  Welcome to CJ's farm, aka the Thunderdome!
While it hasn't been all smooth sailing, I recognize that it's a journey towards mastering a skill. 
If I pick up a guitar tomorrow, I don't expect to be shredding with Styx or The Monkees on their next tour.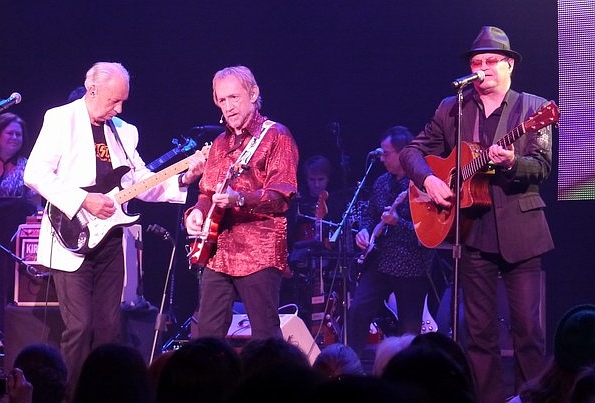 I'd probably still be mastering whatever the guitar equivalent of "Hot Cross Buns" is.
It's funny to go to the Farmer's Market and pick their brains.  Many of them take farming so for granted that they don't understand how anybody can mess it up.
"Just use water and dirt and light and you'll be good, dude."
Thanks man… that's the equivalent of me telling training clients that the secret to a proper push up is to push…. UP!
But to a man, they all agree, that farming is an ongoing experiment… a trial and error sport. 
The best batters in baseball only succeed 3 out of 10 times.  (I'm not sure what the farmer equivalent is on percentages.  All I know is that I still belong in the Tee-Ball league.)
And yet, in two short years of experience,  I probably already know more about chickens than 99% of the people out there.
In terms of fitness, I know I'm relatively athletic on the global scale as well.
That may sound conceited, and I know I'm no Olympian, but I do know where my strengths are.  (And they're not in cooking cauliflower grilled cheese sandwiches…)
https://www.youtube.com/watch?v=Ax_vmQf5B84&t=3s
It took me a long time to double down on my fitness strength (as a trainer and in my own workout regimen), but since making that commitment, my life seems to make a lot more sense.
I could easily rest on my laurels.  Be satisfied with being better than the majority.  But I'm more curious to discover the outreaches of my potential.
A couple of you have caught me in between classes recently in odd, inverted positions and falling on my head over the past few weeks.  I've been working on my gymnastic flexibility and attempting to master a press to headstand.  Like this: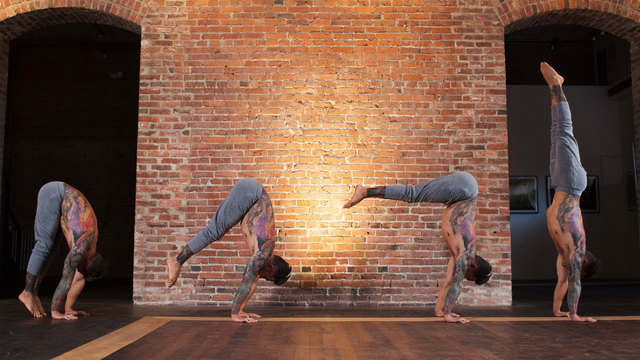 It's been a lot of failure.  And it will continue to be a lot of failure.
But months from now, I'm hoping this will become second nature.
Years from now, with continuous effort, I'll be able to do a full front and middle split.
And decades from now you'll be able to say I knew CJ long before he was ever in Cirque de Soleil and making appearances on the Ellen Show.
Mastery takes patience. 
I'll never be good at everything.
But with concentrated effort, I can become really good at a handful of things.
So often we're told that we need to strengthen our weaknesses.
But it's becoming clearer to me, that I need to double down on my strengths…and keep running some side experiments, like gardening, to broaden my horizons.
In the immortal words of Joe Dirt,
Life's a garden… dig it!
Go cultivate the garden that is your life, my friend.
Plant… water… experiment…
GROW!
Blessings,
CJ
P.S.- Don't bring up the duck thing to Derek.  Following the Viking funerals he gave them, he doesn't like to talk about it.  We'll try again next year.  😉
Crusher Race
Where:  Eureka, MO
When:  6/25/17  (We're doing the 5k option at the 10AM time slot!)
Use this link to sign up with the Bootcamp Team:  https://www.eventbrite.com/e/the-crusher-race-spring-2017-registration-31201917776?team_token=1794936-n8o31
(We're planning to carpool/caravan to the event leaving from the Manchester Vetta parking lot that morning.  I'll be in touch as the date approaches.)
——————————————————————————————-
CJ's Book of the Week:  "Eat Dirt" by Dr. Josh Axe
———————————————————————-
"Skedge" for 5/29/17-6/3/17
Manchester (Class Times:  Mon-Fri @ 5:30/7:00/8:30am & Satuday @ 7am)
Monday: MEMORIAL DAY– 1 CLASS ONLY @ 7AM– (CJ)
Tuesday:  Lower (CJ)
Wednesday:  Upper  (CJ)
Thursday:   Core (CJ)  
Friday:   Lower (CJ)
Saturday: Upper (CJ)
St. Peters (Class Times:  Mon-Fri @ 5:30am ONLY & Satuday @ 8am)
Monday:  NO CLASS (Memorial Day)
Tuesday:  Lower (Derek)
Wednesday:  Upper  (Derek)
Thursday:  Core (Derek) 
Friday:  Lower (Derek)
Saturday:  Upper (Derek)
———————————–
Get Bootcamp Xero HERE: 
Access to 15-minute, real time, eqipment free, follow along workouts…
———————————–
CJ Thomas
Owner, Operator, & "CeejEO"
St. Louis Fitness Bootcamp
ph:  314-266-9729
email:  CJ@STLFitnessBootcamp.com
25