Ready to get muddy?
———————————
Crusher Race
Where:  Eureka, MO
When:  6/25/17  (We're doing the 5k option at the 10AM time slot!)
Use this link to sign up with the Bootcamp Team:  https://www.eventbrite.com/e/the-crusher-race-spring-2017-registration-31201917776?team_token=1794936-n8o31
—————————————
7 Reasons Why You Should Run the Crusher Race… 
Our date with destiny (June 25th) is quickly approaching…
Approximately one month from now, a team of Bootcampers will be dominating the muddy obstacle course that dares to challenge us in Eureka, MO.  We've got a solid group of committed warriors ready to claim their glory.  But there remains a number of others who are still hesitant and could use an extra nudge or two to get off the fence and perhaps climb over one instead.
Below are 7 reasons you should 100% join us for the Crusher Race this June.
#1.  Because it scares you!
Doing things that scare you is one of the only sure-fire ways to ensure a life of never-ending growth and improvement.
Fear is the non-existent (but all too real enemy) that suppresses our true potential and keeps us from living our highest purpose.
It's been said that courage is not synonymous with fearlessness.  Rather, courage is attributed to those who feel the fear, but do it anyway.
Yes, I've heard your flimsy objections…
"It's too far… There's too many obstacles… Mud is yucky…"
REALLY??
Suck it up, Buttercup!
You do Bootcamp… you squat, you deadlift, you run, you do pushups, you do burpees… AND you modify when you need to!
Same rules apply at the mud run.
If an obstacle is too much for you, you can simply go around it.  But more than likely, you'll surprise yourself and conquer the crap out of it, stand at the top of a wall and unleash a warrior cry that will transport you to another dimension reconnecting you with the primal ancestors that laid the groundwork for you to have your modernized life of convenience.
Let's face it… as a society, we're pretty soft.  Most of us have never gone a day without food.  Let alone had to go forage or hunt for a meal.  You've probably never had to start a fire.  Never had to sleep outdoors.  Never had a real visceral encounter with Nature that didn't include weather specific Under Armour and North Face apparel with high tech gloves that ensure you can still operate your iPhone.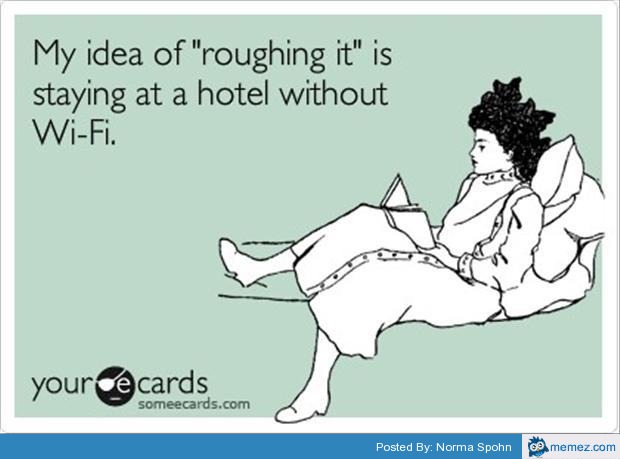 True, we've replaced the old stressors with a plethora of new ones that our tribal predecessors never could have imagined.  But this Matrix-esque dream world that we're a part of has totally disconnected us from our humble beginnings.
Yes, living today beats the hell out of living in the Stone Age or the Dark Age or even yesterd-Age.
But we also lost out on the fat-burning capabilities of cold thermogenesis, the nourishing value of wild, un-corrupted food, and the electrical grounding effect of simply being in contact with the earth's surface (that seems to be increasingly encased in cement and asphalt).
Pay a little homage to the warriors that came before you.
And put this task in perspective… you don't have to traverse a mountain range or wrestle a bear with your bare hands.
Just cover 3.1 miles at whatever pace you choose and go around the obstacles that seem too threatening.  Then slap some mud on your face and smile for a selfie that will obviously become your new profile pic on Facebook.
#2.  Cool selfie opportunities
Sounds a little silly, but on a recent episode of the Ben Greenfield podcast, Ben pokes fun at one of his CEO-type personal training clients for hiring a camera crew to document his muddy obstacle course feats of strength.  He stops to make muscular poses at the top of each obstacle and slaps extra mud on himself at the finish line for the ultimate profile pic.
This is apparently not that uncommon.  And I say, what the heck… If you're gonna conquer a mud run like this one, you might as well get proof of your accomplishment.
As a bonus, when you post your new badassery on Facebook, you'll make your friends wonder when you turned all beast-mode and left them in the dust.  You can play it cool, shrug your shoulders non-chalantly and tell them it was no big deal.  After all, you go to Bootcamp!
#3.  Free beer at the finish line
If you're not convinced yet… this should be the clincher.
And if you don't drink beer, I'll drink yours for you.  😉
#4.  Sense of accomplishment
Even if you've done an event like this before, there is a unique feeling of accomplishment at the end of the race.
I've done mud runs, half marathons, a marathon, 5k's and a few in-betweeners.  But no matter what the distance, there is a special feeling you get when you cross the finish line.  You feel the same thing when you get to the end of any workout, but it's leveled up a few (or fifty) notches when it's on a stage such as this one.
It's just you versus the course.  And when you win (and you will win) you get a flood of endorphins and an extra swagger in your step for having done what most people today might categorize as crazy.
The day is yours.
And the bragging rights come with it.
#5.  When's the last time you got dirty?
In the year 1860, Louis Pasteur began research on the link between disease and germs.  And ever since, human beings have become morbidly afraid of that which we can't see.
Never mind the fact that Misuer Pasteur had a vested (perhaps conflicted) interest in selling his ground-breaking "Pasteurization" process to the masses. Motives aside, the world as we know it would never be the same.
Today we take two showers a day, wash our hands a dozen times per day with anti-bacterial soap, and bathe ourselves in Germ-X every moment in between.  We take antibiotics to carpet bomb our inner landscape.  Then wash our produce, Lysol our counters, and embrace the power of Pine-Sol baby!
Ya know… just to be "safe"!
But we often forget that the microscopic organisms in our world and in our body are precisely what makes life possible.  The microbiome in your gut is made up of 100 trillion bacteria.  And there's another ecosystem of bacteria that makes its home on your skin (despite our efforts to scrub it out of existence).
When you get down to the real nitty gritty, the microscopic world is not something to be feared or eliminated.  On the contrary, it needs to be embraced and nourished for your optimal health.
The truth of the matter is, you could probably use A LOT more dirt in your life.
Dr. Axe has an entire book devoted to this topic aptly named, "Eat Dirt".
So leave your cleaning chemicals at home and come do your amazing body and it's 100 trillion friends a favor by getting a little dirty at the mud run.
#6.  It makes for a good story
One of the most powerful, and yet, underrated tools in our existence is a good story.
Everybody wants to hear a good story.
The best story teller at the party is the one everybody wants to be around.
Stories connect us, unite us, inspire us, enlighten us, educate us, inform us, and entertain us.
A great story is great because it has the power to change our feelings, emotions, mindset, and even the way we view the world.
I listen to a lot of podcasts at present.  The ones you remember and the ones you don't want to miss are the ones where the hosts weave in great stories.
There's a lot of great facts and information out there, but if you only quote me facts from a textbook, it makes me want to shove bamboo shoots underneath my fingernails just to feel something a little less painful.
Even a mediocre story, like the Twilight series, is enough to make its author, Stephanie Meyer, worth $125 million.
"Oh, I like Jacob… I like Edward…"  You know they both want to eat you right?!
Great businesses are built on the platform of great stories as well.
Mark Zuckerberg's a kajillionaire because he created a platform for everybody on the planet to tell their story.  (And you probably block the content of friend's that tell terrible stories.)
You're reading this blog post because you want to hear my story. (And, yes, I'm beyond flattered that you would do so!)
The ability to spin a good yarn is what makes you interesting.
And your ability to tell new tales comes from engaging in new experiences. (Like a mud run, for instance!)
How many times has somebody asked you:
"What did you do this weekend?"
"What's new in your world?"
They're dying to hear your story.
So give the people what they want!
Tell em about how you struggled on obstacle 4.  How your shoe got stuck in the mud at the half way point.  How you were scared at the beginning but you did it anyway.
Tell them a tale of victory. And who knows what you may inspire them to do!
#7.  All the cool kids are doing it!
I wouldn't usually tell you that peer pressure is a valid reason for doing something, but this is your Bootcamp Family we're talking about.
I'm doing it.
Derek's doing it.
And I've got 16 others who have pushed their chips in and are ready to role! Here's the one's I have email confirmations for:
Zai Zakaria
Sindhu Narayan
Parveen Fatima
Vickie Kram
Laura Kram
Terri Fenwick
Jennifer Travaglini
Christine Travaglini
Jamie Odo
Luke Odo
Matthew Marian
Don Miller
Jennie Miller
Denise Selby
Sherry West
Rachel Zigler
Sue Portwine
Pretty much all are Ballwin Bootcampers.  So, St. Peters people, time to step up and join the party.  And I've got a lot of my Ballwin crew on the maybe list as well. But you don't get any courage points for maybe.
Yes, any of your non-Bootcamp friends are welcome too.  The more the merrier!
Don't wait to sign up later… do it NOW, while you're motivated and ready to kick fear in the teeth.  And figure out the details later.
All the critical info is below:
Crusher Race
Where:  Eureka, MO
When:  6/25/17  (We're doing the 5k option at the 10AM time slot!)
Use this link to sign up with the Bootcamp Team:  https://www.eventbrite.com/e/the-crusher-race-spring-2017-registration-31201917776?team_token=1794936-n8o31
(We're planning to carpool/caravan to the event leaving from the Manchester Vetta parking lot that morning.  I'll be in touch as the date approaches.)
I look forward to seeing you June 25th in Eureka!  🙂
Blessings,
CJ
——————————————————————————————-
CJ's Book of the Week:  "The Bulletproof Diet" by Dave Asprey
———————————————————————-
"Skedge" for 5/22/17-5/27/17
Manchester (Class Times:  Mon-Fri @ 5:30/7:00/8:30am & Satuday @ 7am)
Monday: Upper (CJ)
Tuesday:  Core (CJ)
Wednesday:  Lower  (CJ)
Thursday:   Upper (CJ)  
Friday:   Core (CJ)
Saturday: Lower (CJ)
St. Peters (Class Times:  Mon-Fri @ 5:30am ONLY & Satuday @ 8am)
Monday:  Upper(Derek)
Tuesday:  Core (Derek)
Wednesday:  Lower  (Derek)
Thursday:  Upper (Derek) 
Friday:  Core (Derek)
Saturday:  Lower (Derek)
———————————–
Get Bootcamp Xero HERE: 
Access to 15-minute, real time, eqipment free, follow along workouts…
———————————–
CJ Thomas
Owner, Operator, & "CeejEO"
St. Louis Fitness Bootcamp
ph:  314-266-9729
email:  CJ@STLFitnessBootcamp.com
25