Happy Sunday to ya [fname]!
———————————
Crusher Race
Where:  Eureka, MO
When:  6/25/17  (We're doing the 5k option at the 10AM time slot!)
Use this link to sign up with the Bootcamp Team:  https://www.eventbrite.com/e/the-crusher-race-spring-2017-registration-31201917776?team_token=1794936-n8o31
—————————————
Why You Love Mondays… Starting Now
It's always interesting to me the greetings I get on a Monday morning versus a Friday morning.
Monday: 
CJ:  "Hi!  Good morning!  How are you?"
Bootcamper (furrowing brow and narrowing eyes at me as if I just peed in her Cheerios):
"Ugh… It's Monday.  Bleh…" as she proceeds to gently sob and suck her thumb in the corner.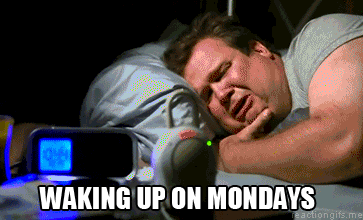 Friday: 
CJ:  "Hi! Good morning!  How are you?"
Bootcamper (with a widening smile, exuberance in her eyes, and a genuine belief that world peace in plausible):
"It's FRIIIIIIIIIIIIIIIIIDAAAAAAAAAAAAAAAY!!!"  the words dance off her tongue melodically as she cartwheels to her spot and rainbows descend from the heavens.
Monday… Friday… Thursday… Flag Day…
Aren't we just talking about days of the week here?
So why does one produce such loathsome disgust while another produces unbridled ecstasy? 
Ok… I won't plead total ignorance here.  Frankly, I used to be the same way.
In my mortgage processing days, Monday was by and far my least favorite day of the week.
Actually, that's putting it lightly…
Had Monday been a living, breathing person, I would have gone out of my way to punch Monday in its stupid, oppressive throat.
Why Monday?… WHYYYYYYY???
For me, Monday meant a constrictive shirt and tie.  It meant hours locked in a cube.  It meant tedious emails to faceless humans giving me orders and strict deadlines….  Rules and regulations I didn't care about…  Inter-office politics I didn't want to partake in…  Brain cells rebelling against the copious amounts of alcohol taken in over the weekend.  And an ever-present, ironic fear of losing the very job I hated due to ongoing downsizing at the company.
AND… it meant it wouldn't be over for another five days!  Or centuries… seemed indistinguishable on Monday.
Yes, Mondays sucked!
So did the rest of the weekdays for that matter.  Friday simply offered the beacon of hope that the weekend was now inevitable.
The weekend offered a chance for me to live MY life.
MY time.
MY freedom.
Which begs the question…
Who's life was I living the other 5 days?
At the time I would have told you I was living American Equity Mortgage's life… That I'd sold myself into 40+ hours per week of slavery.
But everything comes down to perspective.
What if I had asked a more powerful question?
For instance:  Are there any advantages to this position?  This job?  This Monday?
Of course!
I'm earning money.  I'm gaining experience.  I'm making home ownership possible for individuals and families across the nation.  I have benefits.  I have a 401k.  I have co-workers I like and who like me.  I've got opportunity for advancement.  I live in America, which is lucky on more levels that I can possibly fathom.  I'm not being shot at.  I'm here by own free will.  I'm saving up for my own house.  I'm insulating my beer budget.  I can choose to quit any time I want.  And my butt doesn't look half bad in these slacks.
But where was my focus?
On everything that was wrong!
I thought I deserved more money.  But nobody owed me anything.  (Nobody owes you anything either.)
I thought I was trapped.  But the prison was around my mind.
I thought the government took too much of my money.  That one actually holds true… but it's outside of my control, so why waste energy focusing on perceived injustices?
I saw a quote this week from the movie Fight Club that caught my attention.
"This is your life.  And it's ending one minute at a time." –Tyler Durden played by Brad Pitt
To some people this could be a very disheartening and morbid thought.
But to me, I find it inspiring.
Because if you really internalize this statement…  If you really believe in what's being said…  If you recognize that your time here truly is temporary…
This minute.. Yes, this one right now… Becomes all the more precious and beautiful.  (Even if it is a Monday!)
I'm not trying to convince you to stop loving the weekend.  We all have things that we look forward to in our off time.
I'm making a plea for you not to dismiss all the minutes on Monday like trash time at the end of some practice game.
This is NOT a practice life!
Check it… There's nothing wrong with looking forward to Christmas Day.
But it would be an absurd waste to walk around pissed off at the world for the other 364 days of the year because they're not as awesome as Christmas.
And while that analogy sounds ridiculous… if you're dedicated to the "I hate Mondays" club, you're forfeiting one-seventh of your life to despair.
Throw Tuesdays, Wednesday, and Thursdays into the mix… and now over half of your life isn't worth living.
You get to choose. 
This is your life.  And it's ending one minute at a time. 
And if you really do hate your job or your situation and can't justify being there another moment, start getting proactive about how to change it.
Ask some better questions and your brain will give you some better answers.
In the mean time, rediscover what's awesome about Monday.
#1.  You're alive.  
No, seriously!
I used to have a real estate master mind group.  Every time we met, my friend Bob would declare to the group at check in, "I'm above ground and I'm breathing, so it's a good day."
I wondered if he actually meant that, or if it was just some B.S. he was mindlessly parroting.
I certainly didn't feel that way.
"Ok BOB… I'm alive… Duh!… That's a given.  We're all alive.  That's supposed to be a win?  That's supposed to be a source of happiness?"
Yes, Past-Dummy-C.J.!  That's a HUGE friggin win!
Do you ever think about the dudes who built the Egyptian pyramids?  Or the serfs?  Or the pioneers?  Or Rosa Parks?  Or the Artist-Formally-Known-as-Prince?  Or Macho Man Randy Savage?  Or any of the kajillion gravesites accumulated throughout history?
You've probably been around long enough to watch someone you personally know and love exit this life too.
So if you are currently taking in breaths and not pushing up daisies… yes, you win!
Monday or otherwise… you win!
But what we know from all those who came before us is that our Mondays are limited.
Nobody gets unlimited sunrises.
So cherish them while you've got them.
Relish the fresh start to the week.
Be that annoying person who is happy on a day when the rest of the world is hanging their heads and lusting after a future date while abhorring the current one.
Or continue to heed the wisdom of a fictional cat.
This is your life.  And it's ending one minute at a time.
See you Monday!  😉
Blessings,
CJ
——————————————————————————————-
CJ's Book of the Week:  "No Matter What!" by Lisa Nichols
———————————————————————-
"Skedge" for 5/1/17-5/6/17
Manchester (Class Times:  Mon-Fri @ 5:30/7:00/8:30am & Satuday @ 7am)
Monday:  Upper (CJ)
Tuesday:  Core (CJ)
Wednesday:  Lower  (CJ)
Thursday:   Upper (CJ)  
Friday:   Core (CJ)
Saturday: Lower (CJ)
St. Peters (Class Times:  Mon-Fri @ 5:30am ONLY & Satuday @ 8am)
Monday:  Upper (Derek)
Tuesday:  Core (Derek)
Wednesday:  Lower  (Derek)
Thursday:  Upper (Derek) 
Friday:  Core (Derek)
Saturday:  Lower (Derek)
———————————–
Get Bootcamp Xero HERE: 
Access to 15-minute, real time, eqipment free, follow along workouts…
———————————–
CJ Thomas
Owner, Operator, & "CeejEO"
St. Louis Fitness Bootcamp
ph:  314-266-9729
email:  CJ@STLFitnessBootcamp.com
25