Howdy, howdy [fname]!
———————————
Crusher Race
Where:  Eureka, MO
When:  6/25/17  (We're doing the 5k option at the 10AM time slot!)
Use this link to sign up with the Bootcamp Team:  https://www.eventbrite.com/e/the-crusher-race-spring-2017-registration-31201917776?team_token=1794936-n8o31
—————————————
Ladies and gentlemen…
Boys and girls…
Chickens and roosters…
I'd like to introduce you to your newly, officially, certifiably, NASM-accredited certified personal trainer!
MEEEEEEEEEEEEEEEEE!
Yes, yes… please hold your applause.
But I am pretty psyched up about it.
I spent the better part of January and into February studying for it.  But then between signing up for mandatory CPR/AED training and other Bootcamp responsibilities, I temporarily forgot to actually sign up for my final exam.
So here we are in April.  And I had to spend this past week cramming 600+ pages of NASM text book back into my head after a nearly two month hiatus.
Thursday night was Test Date Eve and I only got 90 minutes of sleep as I reviewed endless practice test questions on kinesiology, muscle imbalances, training protocols, and some… shall we say, 'questionable' nutrition information. 😉
But as of 3:30pm on Friday afternoon, it was official and I had passed the test, taken my success selfie, and started receiving lots of love on Facebook for my fresh accomplishment.
But the question I kept getting was… WHY?
Derek put it quite eloquently to me:
"So you studied for months, crammed for the past week, skipped sleep, and learned about nutrition tactics you don't even believe in… to do the EXACT SAME THING THAT YOU'RE ALREADY DOING?!!"
Derek can be a real sweetheart, can't he?
He's not entirely wrong though.
On the surface, not much has really changed.
So why did I do it?
I guess part of it is ego.
Every so often I get asked who I'm certified through.
Suffice it to say, I don't take a lot of pride in my Expert Rating certification that took less than two hours and about $60 to "earn".
That's not to say I'm not educated or qualified…
I'd venture to guess I've invested as much time developing my knowledge base in the last four years as anybody in a similar career path.
But YouTube-University doesn't have an official certification.
Continuing education in podcasts isn't recognized by most boards.
And a growing library on health, training, nutrition, and business building has proven vastly valuable.  But it doesn't give me any letters to put behind my name for when I publish a book.
Let's face it, "C.J. Thomas, NASM CPT" looks cooler than, "C.J. Thomas, Trust-me-bro-I-got-this".
But that's not the real reason I did it.
The real reason I did it is opportunity.
My favorite podcast is done by a dude named Ben Greenfield.
This guy seems to know everything there is to know about everything in the fields of nutrition, anatomy, strength building, fat loss, biohacking, mindfulness, disease prevention and reversal protocols, clean living… the list goes on and on.
Ben's got a large plot of land in the state of Washington where he lives an all-natural, Wifi-free, goat-raising, chicken-tending, organic-farming, wild-foraging, twin child-raising, cold water swimming, structured-water-drinking, biohacking-gear-wearing, obstacle-course-racing kind of life.
It's kind of like looking into my future.  Lol.
If you'd asked me a decade ago what famous person I would most like to meet, I probably would have told you Jim Edmonds.
In the last few years however, my priorities have changed drastically.  And my answer today would almost certainly be Ben Greenfield.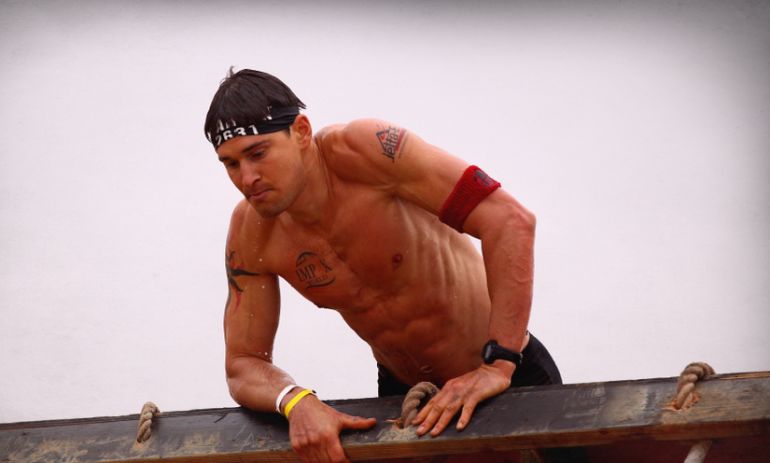 We'll be BFF's someday.  He just doesn't know it yet.
(Fun fact:  I have chickens named after both of these icons… Jim Eggmonds and Hen Greenfield.)
Why am I telling you about my man-crush on Ben Greenfield? 
Tony Robbins often says that once you decide what you want in life, you find someone who's already doing it, observe their every move, and reverse engineer it to get there yourself.
That's what I've been doing with Ben.
When I first came across Ben it was like he was speaking another language.  But the more I listened, the more I learned.  And the more I learned, the more I wanted to be like Ben.
At one point, I remember Ben offering to personally coach aspiring health gurus like myself in the ways of the health Jedi.
(I'm Luke… Ben's Yoda.)
My interest was piqued, but upon further investigation, it turned out there are pre-requisites to learn from the master.
And Expert Rating was not a recognized certification for Ben's coaching program.
This is not the first time this has come up.
Look… I know I'm a personal trainer.  You know I'm a personal trainer.  But to the personal training, fitness-minded influencers in this community, I'm not totally recognized as being legit.
Until now.
So to those of you who have asked why I'm doing this…
No, I'm not going anywhere.
No, I'm not abandoning you.
And no, I'm not going to adhere to NASM's nutritional recommendations.
(Would you believe that they want me to refer you to the FDA's website for dietary information?  Sorry, but to me, that's malpractice!)
I'm doing this because I'm trying to become a better version of myself for you.
I'm seeking more opportunity.
I'm on a mission to provide more value and improve more people's lives.
This is just a stepping stone.
So thanks for all your support and congratulations as I put this milestone in my rearview mirror.
I'm happy to have this one behind me.
But as I've said before… this is only the beginning!
Blessings!
CJ
P.S.– Those of you who've been asking for chick pics:
——————————————————————————————-
CJ's Book of the Week:  "Living with a Seal" by Jesse Itzler  (Absolutely hilarious, and lots of great take-aways… and workout ides.  Lol.)
———————————————————————-
"Skedge" for 4/24/17-4/29/17
Manchester (Class Times:  Mon-Fri @ 5:30/7:00/8:30am & Satuday @ 7am)
Monday:  Lower (CJ)
Tuesday:  Upper (CJ)
Wednesday:  Core  (CJ)
Thursday:   Lower (CJ)  
Friday:   Upper (CJ)
Saturday: Core (CJ)
St. Peters (Class Times:  Mon-Fri @ 5:30am ONLY & Satuday @ 8am)
Monday:  Lower (Derek)
Tuesday:  Upper (Derek)
Wednesday:  Core  (Derek)
Thursday:  Lower (Derek) 
Friday:  Upper (Derek)
Saturday:  Core (Derek)
———————————–
Get Bootcamp Xero HERE: 
Access to 15-minute, real time, eqipment free, follow along workouts…
———————————–
CJ Thomas
Owner, Operator, & "CeejEO"
St. Louis Fitness Bootcamp
ph:  314-266-9729
email:  CJ@STLFitnessBootcamp.com
25